Are you looking for a place where you can have a calm and peaceful place to spend your retired life? Then Caribbean Island is one of the most exotic destinations of all. If you want a romantic destination for your honeymoon, then also you can think of Caribbean Islands. The tropical paradise of the country will welcome you with its lush greenery and azure sea. Here are the top 6 places of Caribbean Island where you can live happily ever after-
Bahamas
The Commonwealth of the Bahamas comprises of 700 islands, among which 29 are livable. It is true that the Bahamas is in the Atlantic Ocean; still, it is accepted as the member of the Caribbean Community. To own a permanent residential status at the Bahamas, you need to own property, worth minimum $250,000. Exotic beach life with golfing, diving and sailing, you can expect an awesome life at the Bahamas.
Ambergris Caye, Belize
If you want a dwelling place apart from city life and all its chaos; this island is the best place to live. San Pedro is the only town here. This place is actually famous for diving and fishing, but today the place is developing continuously. If you want a place in nature will several conveniences, pick this place to live. You can find property from $175,000 minimum.
Curacao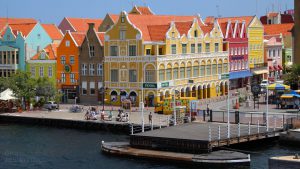 Though this island is famous around the world for diving, you can choose it to spend your life after retirement. Expats can enjoy horseback riding, kayaking, sailing, mountain biking and golfing here. You don't need to worry about healthcare or transportation system of the place as the public as well as private facilities are available on this island. There are tax breaks and several other incentives for the retirees who are of 50 years or more and can own property, worth of $255,000.
Isla Mujeres, Mexico
Earlier, this place was a tourist destination for those who want to stay away from the hustle and bustle of popular hotspots. Slowly, the azure sea and vast greenery have captivated people's mind, and it becomes one of the most cherished dwelling places at the Caribbean Island. How about having a shack on the beach and living an exotic life here? Thrilling!!
Roatan, Honduras
How about living in a place which is known as the world's second largest coral reef? You can also enjoy diving and snorkeling here. From healthcare services to transportation and other services, you can have all facilities here. Within three hours you can reach to Atlanta or Dallas and enjoy the city life too.
Las Terrenas, Dominican Republic
If there is any heaven on this earth, that is here. Yes, you can say this about the Island. The pristine beaches with awesome food shacks, you can get a wonderful and exciting life here. If you are not a retiree, then also you can enjoy the island to a great extent.
Here are the top 6 dwelling places of Caribbean Island where you can enjoy your life in a completely new style.