Someone mentions the Caribbean and every single person is sure to reel back to moments experiencing the calming sea beaches, the tranquilising blue water and the beautiful picturesque sceneries all around. The places to visit are some of the best and worth the money and hassle, and we are here to guide you through to some of the best spots you definitely can't miss out on your next trip to the Caribbean.
Don't go by the name of the place; it is not going to indulge you in anything British but entice you with its beautiful greenery and the warmest and the most beautiful sea beaches. The place is one of the best when it comes to tourist attractions, and people tend never to miss out on giving a visit to this secluded and calming part of the Caribbean. Tourists often take a ferry to come visit the place from other islands in the Caribbean. It has some of the best resorts and restaurants and is sure to give you the best tropical treatment that you have come to enjoy.
Next in the list is obviously the island which offers both thrill and adventure. The Cayman Island is apt both for people who are looking for adventure and even for people who want to have a quiet and interactive family time. You name the task, and it's there on the island. It has some of the best sea beaches of the world and is an archipelago of three different islands together.
Turks and Caicos are home to some of the most beautiful white beaches in the world. The place is one of the least visited yet one of the most beautiful places anyone should visit if they wish to have a silent and peaceful place to stay in. The place is developing with the passing time and is attracting a lot of tourist attention due to which it is urbanising with a lot of resorts and restaurants. The food is one of the best in the place.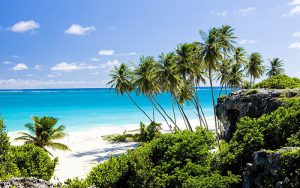 Everyone who is familiar with theCaribbean region has listened to the name Barbados at least once. The place is not like the mainstream Caribbean places but is somewhat more in the upscale and upbeat places. It is a place where people can indulge in sports and party like there's no another day. And to add that touch of the Caribbean, you can hum to the tunes of Calypso while dancing in the local club munching down on a Caribbean delicacy.
The last but not the least has to be the central attraction of Cuba, Havana. The place is one of the best when it comes to adorning vintage culture and the prosperity. It is home to some of the most beautiful building and the fact that most of them are of pastel colours make them even more beautiful. The place has some of the best cuisines and well, the Habanero chilli is definitely famous all throughout the world.